Lessons in Your Home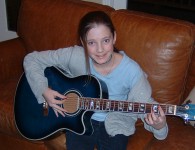 Piano/Keyboards, Guitar, Bass, Hand Drums, Recorder
All ages, all levels, all styles.
I travel throughout the Boston Metro Area every week to teach in the homes of my student. To find out when I am in your area, contact me.
A Flexible Teaching Style - Although I incorporate a number of different "methods" into my approach. I do not believe there is any one-size-fits-all approach to teaching. Every student has different goals, different strengths and weaknesses, and different learning styles. It is the job of a good teacher to work with the student to understand their particular learning style and help them achieve their goals, while teaching them basic music theory and technique.